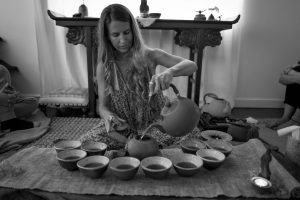 Tuesday December 20th, 5-8: Sliding scale $49-65
In this three hour ceremonial workshop you will benefit from the beauty of sacred space as we welcome the season of Yule, which is the Rebirth of the Wheel of the Year. An altar will anchor our practice, and we will begin with an opportunity to discover the medicine of this Season and how you may work with its magic.
You will experience Cha Dao, or Sacred Tea Ceremony. This is a practice facilitated by Ashley that has its roots in shamanistic Taoism and Zen Buddhism. The earliest written records of Tea describe this plant found in the wild as Medicine that brightened the eyes and opened the Heart. It was domesticated by monks for its ability to support calm and awakened presence and to sustain practitioners in extended meditation.
As your heart is opened and your mind awakened, Ra Ma will guide you with light yoga and breathwork. The practice will culminate with an extended meditation and a sound bath to rejuvenate your Spirit in honor of the Solstice. You are invited to bring a journal to capture your insights that arise during this experience. We look forward to welcoming you in this space of stillness and reflection.
Ashley is honored to have been able to introduce the practice of the Cha Dao Sacred Tea Ceremony to the East Coast of the United States in 2016. Being one of the few original students to study directly at the Global Tea Hut with its founder WuDe, world renowned tea master, author and Zen monk, while living abroad in Taiwan, she is a dedicated student and daily practitioner.