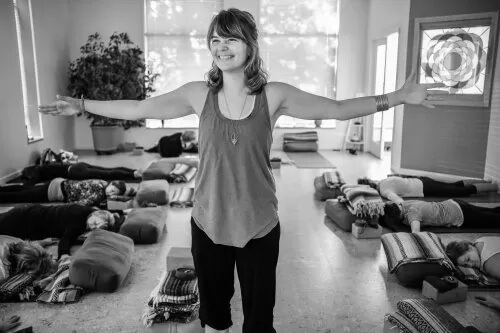 Kim's up-coming classes
Kim Drye (she/her) is a seasoned and skilled yoga instructor and current studio owner of West Asheville Yoga. She specializes in alignment, therapeutic and restorative yoga.  Her classes are typically a themed slow flow interspersed with a breakdown of technique and alignment details.  She regularly teaches classes, workshops, retreats, and teacher trainings under a brand she created in 2011, HereNowYoga.
Some of Kim's most loved offerings are "Yoga on the Mountain" and "Restorative Yoga and Hot Stones" as well as her private therapeutic sessions for seniors and others looking for an adaptive practice and/or a teacher who will meet them where they are on their path of self discovery.  She loves to teach "Weighted Restorative" sessions that include the use of Ravi weighted blankets– a therapeutic technique for anxiety, ADHD and other neurodivergent tendencies.  She is a founder and continues to work closely with Asheville Wellness Tours as a yoga hiking guide, goat yoga instructor, bachelorette and wedding yoga teacher, and private instructor at Airbnbs and vacation homes.
Kim trained primarily with instructors in the Iyengar tradition including Asheville, NC teachers Lillah Schwartz and Cindy Dollar, as well as nationally recognized master teachers Matthew Sanford, Roger Cole, and Aadil Palkhivala.  Her certifications include a 200 hour certification from the Asheville Yoga Center with Stephanie Keach (2008), and a 500 hour Yoga Therapy certification from Lighten Up Yoga with Lillah Schwartz (2009-2013).
Kim believes strongly in the interconnectedness of all beings and the power that a practice of yoga asana and meditation as a deep study of the Self can have to bring forth the joy that resides in every heart.